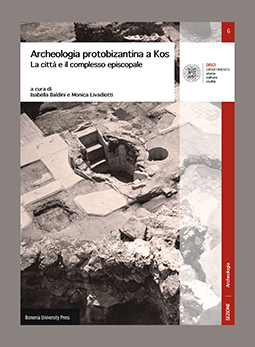 Isabella Baldini and Monica Livadiotti editors
Series DiSCi 6, Bononia University Press, Bologna 2015, pp. 1-537
ISSN 2284-3523, ISBN 978-88-7395-991-5
:
In 2011, in the series "Studies and Excavations" of the former Department of Archaeology, the volume on research in the suburban area of St. Gabriel in Kos was published (Isabella Baldini and Monica Livadiotti editors, Archeologia protobizantina a Kos. La basilica di S. Gabriele). The volume illustrated the result of research carried out between 2006 and 2009 in collaboration with the Department of Civil Engineering and Architecture of the Polytechnic of Bari.
That work is now joined by the present volume, which focuses on the urban topography of Kos through a series of contributions that allow to compose the overall picture of the town during the late antiquity. The image of a city that maintains a remarkable tone for both urban extension and monumental effort is confirmed. The book publishes the results of the archaeological campaigns conducted between 2007 and 2013 in the Western Baths district, where from the age of Justinian a new and large episcopal complex, in use until the eighth century, is implanted. The aim was to contextualize the development of the Christian complex by considering the relationship with the previous phases (a Hellenistic gymnasium and a large Imperial baths) and its settlement context.
The researches, carried out in an interdisciplinary way and again in cooperation between the DiSCi of the Alma Mater University of Bologna and the DICAR of the Polytechnic of Bari, have been carried out in accordance with the Ephorate of Antiquities of Dodecanese (Rhodes).
The results bring new methodological contributions with particular regard to the analysis of materials and to the stratigraphy of architectural structures, until the drawings, considered as a cognitive step, and the enhancement projects of the archaeological site. The work has been completed by an extensive bibliography and the summaries in English of all the contributions.
.
Download the volume preview
To purchase the volume: http://www.buponline.com/ita/home.asp