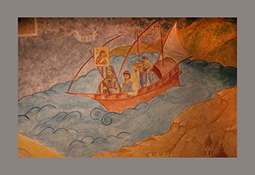 Multidisciplinary approaches to paleoenvironmental changes and the history of human occupation in the Mediterranean islands since the last Glacial Maximum
International Conference organized in Cargèse (Ajaccio, Corse), in the period 30th June – 2nd July 2015, by the Centre Européen de Recherches et d'Enseignement  des Géosciences de l'Environnement  (CEREGE, UMR 7330 CNRS), the Direction Régionale des Affaires Culturelles (Ajaccio, Corsica), in association with the Swiss School of Archaeology in Greece and the Laboratoire di Geographie Physique "Pierre Birot" (UMR 8591 CNRS).
Geoarchaeology could be defined as the study of environmental and landscape dynamics linking the human occupation and impact on an archaeological site. Combining geosciences and geographic methods, that approach could be of significant help to the study of archaeology. The conference aims to investigate the following topics:
Coastal paleogeographies
Sea-Level changes
Climate changes
Vegetation history
Extreme events and catastrophism (earthquakes, tsunami, etc.)
Fluvial dynamics "from source to sink"
Agriculture and Ancient Economy
Historical sources and past landscapes reconstruction
From past to future: archaeology as a tool for sustainable development.
The proposal, written in English or Frech, must be submitted before the 1st January 2015.
For further information download the .pdf