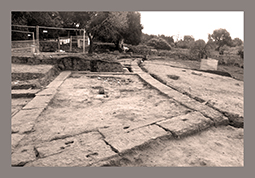 Thursday, March 23, 2017 at 17.00, at the Archaeological Museum "Pietro Griffo" of Agrigento, the exhibition "Theatrum ibid erat eminentissimum" has been inaugurated by the director of the Ente Parco Archeologico della Valle dei Templi, arch. Giuseppe Parello, and the director of MARAG, Dr. Gioconda Lamagna. The exhibition presents the results of a research in the agora of the ancient Agrigentum that the team of the ICAR Department of the Polytechnic of Bari leads since 2012 in accordance with the scientific board of the Ente Parco Archeologico e Paesaggistico della Valle dei Templi and in synergy with the University of Catania and the involvement of the Kore University of Enna and the University of Molise.
Under the scientific supervision of Professors Luigi Caliò (University of Catania), Monica Livadiotti (Polytechnic of Bari), and Drs Valentina Caminneci, Maria Concetta Parello and Maria Serena Rizzo (Ente Parco), the exhibition displays a selection of meaningful finds, coming from the area of ​​the theater, recently discoverd, and the Roman temple. The layout of the exhibition has been prepared by the architect Antonello Fino, in cooperation with Drs. Carla Guzzone, Francesca Leoni, Donatella Mangione and Luciano Piepoli.
.
The exhibition will remain open until June, 30, 2017.
Download the flyer