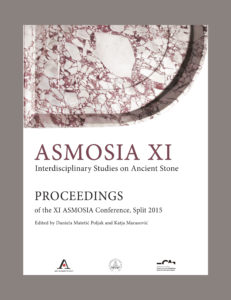 Proceedings of the Eleventh International Conference of ASMOSIA, Split, 18-22 May 2015, Split 2018.
ISBN 978-953-6617-49-4, 987-953-6116-75-1
e-ISBN 978-953-6617-51-7, 978-953-6116-79-9
The huge volume, of more than 1000 pages, collects the proceedings of the last Conference – the eleventh, held at Split in 2015 – organized by the ASMOSIA Association; as known, the association aims to develop new studies about marbles and other stones employed in Antiquity, providing steadily updated data. The book is divided into eight thematic sections, each one focusing on single or homogenous topics: from the analysis of archaeological issues connected with the use of marbles to the precise identification of their provenance and quarries; from the use of new methodologies and techniques to recent studies on geological aspects and quarry administration; specific analysis regarding marble restoration and painting on marbles and stones are addressed as well. The last – really interesting – part focuses on the Adriatic region.
Download preview