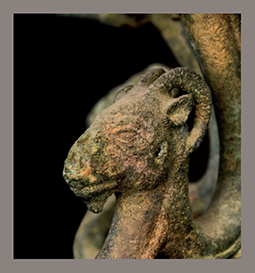 Archaeological recoveries of the Guardia di Finanza
.
The spectacular area of ​​the Stadium of Domitian in Rome houses an extraordinary collection of works and artefacts of archaeological interest that explore the theme of ancient symbolism in terms of burial, socio-political and religious-magical traditions.
Conceived and organized by the Cultural Association "Vicus Italicus", in collaboration with the Tax Police Core of the Guardia di Finanza in Rome, the exhibition involves more than 200 unpublished findings. Most of them were recovered in Italy and abroad in the course of the activity to protect our cultural heritage. Among these, a corpus of clay materials from the votive deposit of Pantanacci, in the territory of the municipality of Lanuvio, where the Guardia di Finanza in 2012 identified a site hitherto unknown to the Superintendency.
On the occasion of the exhibition, it was published the Catalogue Symbola. The Power of Symbols. Archaeological recoveries of the Guardia di Finanza, edited by G. Ghini, V. Lemmo, M. Rossi, with contributions of other authors, Dielle Publisher.
 .
Rome, Stadium of Domitian, Via di Tor Sanguigna, 3 (Piazza Navona)
The exhibition will be open to the public from October 16, 2015 to April 15, 2016
 .
For information:
tel. +39 06.45686100 – +39 06.45686101   http://www.stadiodomiziano.com