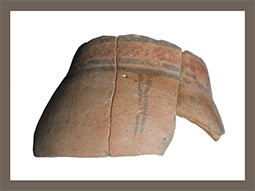 scarica l'articolo in fromato .pdf: Nuovi dati di età arcaica dai contesti abitativi indigeni di Tortora e Scalea: gli Enotri del Golfo di Policastro
.
Nel 2017 il DICAM dell'Università di Messina ha effettuato campagne di scavi archeologici presso il sito di Blanda Julia (sulla collina del Palecastro di Tortora) e presso il sito arcaico di Petrosa (Scalea-CS). Le indagini a Tortora ci hanno aiutato a definire il rapporto tra il Foro e l'area residenziale e, per quanto riguarda l'area 6000, a gettare nuova luce sulla fase arcaica dell'insediamento sulla collina di Palecastro. Le indagini alla Petrosa ci fanno meglio conoscere il sito arcaico, forse fortificato, scavato da P.G. Guzzo nel 1975. Gli insediamenti abitativi di Tortora e Petrosa (VI-V sec. a.C.) sono occupati da gruppi di genti enotrie; le ricerche effettuate e lo studio delle ceramiche indigene e di importazione ci permettono di ricostruire la topografia del golfo di Policastro ed i rapporti commerciali con le colonie greche tra metà VI e inizi V sec. a.C.
.
In June 2017, a DICAM's team from the University of Messina carried out a new plan of archaeological excavations on the site of Blanda Julia (Palecastro hill, Tortora-CS) and on the archaic site of Petrosa (Scalea, CS). These studies let us to define the Forum plan and its relationship with the residential area of Blanda and, as regards area 6000, to shed new light on the archaic phase of this settlement. The investigations at Petrosa let us to better know the archaic settlement, perhaps fortified, excavated by P.G. Guzzo in 1975. The housing settlements of Tortora and Petrosa (6th-5th century B.C.) are occupied by Enotrians people; the last research and the study of the indigenous and imported ceramics allow us to reconstruct the topography of the Gulf of Policastro and the trade relations with the Greek colonies between the middle VI and the beginning V sec. B.C.