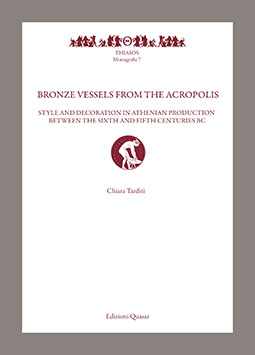 C. Tarditi, Bronze vessels from the Acropolis. Style and decoration in Athenian production between the sixth and fifth centuries BC, Thiasos Monografie 7, Roma 2016, pp. 410
ISBN 978-88-7140-717-3, e-ISBN 978-88-7140-718-0
Alcuni anni fa, quando ero ancora Direttore del Museo Archeologico Nazionale, ho concesso alla dott.ssa Chiara Tarditi l'autorizzazione a studiare e pubblicare i vasi di bronzo dall'Acropoli di Atene, non solo quelli esposti nel Museo, ma anche quelli nei magazzini.
È stata quindi una grande gioia vedere il manoscritto di un intero libro intitolato Bronze Vessels from the Acropolis. Style and Decoration in Athenian Production between the Sixth and Fifth Centuries BC. Mi ha colpito il modo sistematico con cui l'Autrice ha trattato un materiale che a prima vista può sembrare "insignificante" dal momento che consiste principalmente di frammenti. A partire dalle testimonianze epigrafiche e letterarie e, successivamente, con l'esame di questioni tecniche e stilistiche, Chiara Tarditi riesce a presentare un quadro integrale dell'antica metallurgia ateniese, inquadrata nella produzione degli altri siti durante il periodo arcaico e classico. La conclusione che lavori di metallurgia attica appaiano diffusi anche in santuari diversi dall'Acropoli di Atene, come Olimpia, Dodona e Perachora, e anche in aree più distanti, come l'Italia e il Mar Nero, anche se su scala minore, rivela la metodica, esaustiva e approfondita ricerca dell'Autrice.
Mi fa davvero molto piacere poter vedere il materiale dal Museo Nazionale pubblicato in uno studio così approfondito, frutto di un lavoro complesso e scrupoloso. Credo che il contributo di Chiara Tarditi non solo nel campo della metallurgia attica, ma di quella greca in generale, sia grande e auspico di cuore che l'Autrice, che io ora considero come un'esperta nel settore, ci possa dare in futuro altre opere analoghe.
Nicholaos Kaltzas
.
Scarica il .pdf con il sommario e la presentazione: Bronze vessels from the Acropolis
Per acquistare il volume: Quasar