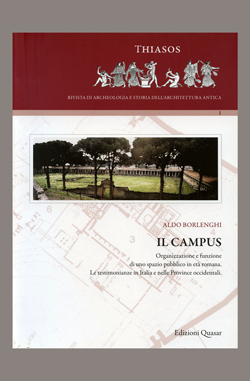 A. Borlenghi, Il campus. Organizzazione e funzione di uno spazio pubblico in età romana. Le testimonianze in Italia e nelle province occidentali, vol. I della collana Thiasos, ed. Quasar, Roma 2011,
ISBN 8871404548, 9788871404547
.
The topic investigated by the volume, that inaugurates Thiasos Series and is authored by Aldo Borlenghi, perfectly meets the initiative aim. It is indeed an in-depth research on a scarcely analyzed subject, i.e. the campus, a monumental space of the Roman city in Italy and in western provinces, integrating the complex representative system displayed in public architecture. The volume does not simply deals with typological issues, but it rather starts from the problem of recognition and definition of the structural features of the campus in order to understand its functions, reasons of diffusion, social meanings in heterogeneous cultural and chronological contests.
.
To buy the volume: Quasar