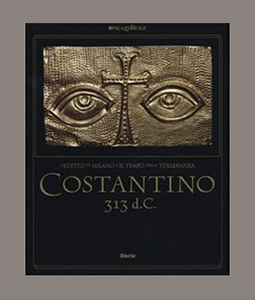 Milan, Palazzo Reale, from 25th October, 2012, to 17th March, 2013
The exhibition celebrates the anniversary of the enactment of the Edict of Constantine in Milan in 313 AD. The exhibition seeks to reaffirm the importance of Milan in the fourth century as one of the main centers of the process of European unification, highlighting the cultural and artistic level reached by the Empire in the age of Constantine. The initiative is sponsored and produced by the City of Milano – Culture, Fashion, Design, Palazzo Reale, the Museo Diocesano of Milan and the publisher Electa, in collaboration with the Ministry of Heritage and Culture and the Special Superintendence for archaeological heritage of Rome, the Archdiocese and the University of Milan. The event is under the patronage of the President of Italian Republic and the Secretary of State of the Vatican, under the patronage of the Ministry of Foreign Affairs and the Ministry of Heritage and Culture, the patronage of the Lombardy Region and the support of Province of Milan. The exhibition is organized with the support of the Bracco Foundation.
.
For more information on the exhibition: http://www.mostracostantino.it/
.
The exhibition is illustrated by: G. Sena Chiesa, P. Biscottini (a cura di), Costantino 313 d. C. L'editto di Milano e il tempo della tolleranza. Catalogo della mostra (Milano, 25 ottobre 2012-17 marzo 2013), ed. Mondadori Electa, pp. 299, ISBN-13 9788837092702
.
For more information on the volume: http://www.inmondadori.it/Costantino-313-d.-C.-editto-NA/eai978883709270/