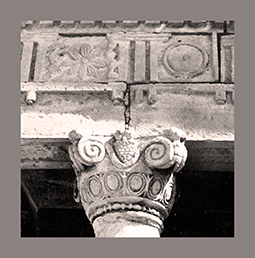 Il volume raccoglie una selezione degli articoli giunti alla Rivista a seguito di una call for papers sul tema dell'architettura provinciale, indirizzata a tutti coloro che volessero contribuire con il proprio lavoro a indagare il complesso rapporto che intercorre tra modelli architettonici Urbani e relative declinazioni nelle province romane, nell'arco di tempo compreso tra Augusto e i Severi; a essi, si sono aggiunti alcuni articoli su invito. Scopo dell'iniziativa è di fornire agli addetti ai lavori un set di nuovi dati, sintesi e interpretazioni che possano giovare in qualche misura ad ampliare i confini del dibattito attuale sul tema, di straordinario fascino e interesse. La denominazione del Supplemento che ne è derivato, In solo provinciali, parafrasa le parole di Gaius nella seconda delle sue Institutiones (Gai. Inst. II, 7), quando il giurista, alle prese con questioni certamente diverse dalle nostre, attesta il dominium di Roma sui territori delle province.
Sommario
G. Mazzilli, L'architettura "in prouinciali solo" (Gai. Inst. II, 7): per un contributo alla definizione delle forme della Baupolitik provinciale in età imperiale, pp. 3-18;
A. Starac, The Oldest Forum Temple of Pola. A New Approach, pp. 19-32;
C. Bozzi, Il cantiere del Grande Tempio di Luni tra ricezione dei modelli, tradizione e innovazione, pp. 33-50;
A. Armirotti, M. Castoldi, L'area sacra del Foro di Augusta Praetoria (Aosta, Italia). Modelli architettonici e materiali costruttivi, pp. 51-68;
M.S. Vinci, Forme architettoniche e costruttive nell'architettura ufficiale di una capitale provinciale: Tarraco in epoca alto-imperiale, pp. 69-86;
A. Labriola, Persistenza dello "Stile Secondo Triumvirato" in Hispania Citerior: il "Temple d'August" di Barcino (Barcellona), pp. 87-104;
R. Carboni, L'architettura sacra nella provincia Sardinia et Corsica: alcune considerazioni su persistenze e innovazioni tra età repubblicana e media età imperiale, pp. 105-122;
F. Bonzano, L'architettura a Malta (provincia Sicilia) in età imperiale: elementi noti e prospettive di ricerca, pp. 123-138;
F.K. Yegül, The Temple of Artemis at Sardis: An Exceptional Pseudodipteros, pp. 139-156;
A. Ottati, Atene e Pergamo. Riflessioni su tre architetture di età adrianea, pp. 157-176;
D. Favro, The Unequal Triangular Obelisks of Anatolia, pp. 177-194;
G. Montali, La fortuna del capitello ionico nella Gortina imperiale: i modelli microasiatici e le rielaborazioni in marmo grigio locale, pp. 195-216;
Ei. Poupaki, Kos and the Roman Marble Trade Network: Imported Building Material in Kos (Dodecanese, Greece) and Possible Exports of Local Architectural Members during the Roman Era, pp. 217-230;
F. Sacchi, Immagini nei cassettoni di alcune cornici da Hierapolis di Frigia: evocazioni o figure stereotipate?, pp. 231-250;
A. Dell'Acqua, Il Teatro romano di Cesarea Marittima: nuovi dati sulla fase erodiana dell'edificio, pp. 251-268;
J. Parétias, É. Mantel, Models and Functions of Theaters in Roman Northern Gaul: The Theatrical Monument of Briga (Eu, "Bois-l'Abbé", Fr), pp. 269-284;
S. Aiosa, "Questa è la città di Augusto". Archi e processioni a Leptis Magna, pp. 285-300;
V. Evangelidis, Building the Cityscapes of Roman Greece: Urban Armatures, pp. 301-320;
N. Cecconi, Oecus Corinthius et Aegyptius. Origini, applicazioni e interpretazioni di due modelli architettonici in Italia e nel Mediterraneo meridionale e orientale tra Augusto e i Severi, pp. 321-346.