download article as pdf: The Acropolis of Lindos:the work of redesigning and enhancing the archaeological site
.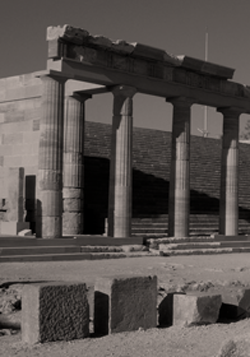 The project of redesigning and enhancing the archaeological site of the Lindos Acropolis began in 2001, within the context of the restoration works of the monuments carried out by the Hellenic Ministry of Culture and Tourism. The most important problems that had to be confronted concerned the visitors pathways through the monument (up to 2500 visitors daily), and the existing difficulty in identifying smaller monuments, like anathimata (offerings to the gods) and inscriptions found scattered all around the place since the time of the excavations.
What became a necessity in order to implement the study was the composition of an accurate designing site plan and the recording of every scattered stone findings (about 2000). This recording enabled the identification of 421 inscribed stones with the list produced by the archaeologists who had excavated the site and also the location and association of more than 113 unpublished sections with architectural and votive monuments of the site.
The goals of the redesigning and enhancing project were the following:
– To optimize the routes the visitors followed and help them recognize the monuments of the site by following specific pathways.
– T o protect and promote the smaller monuments of the archaeological site.
– To protect and highlight the scattered material by classifying it.
The study has been approved by the Hellenic Central Archeological Council (KAS) in 2006 and realized during the period of 2006-2009.