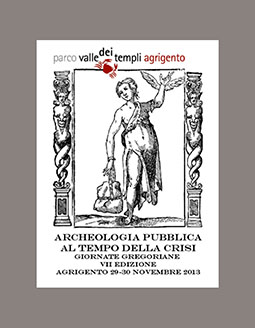 The Parco Archeologico e Paesaggistico della Valle dei Templi di Agrigento intends to dedicate the seventh edition of the " Giornate Gregoriane ", to be held on 29 and 30 November at the headquarters of the Park, to a Conference about a reflection on the relationship between archaeology and society in the context of the economic and cultural crisis that Italy and Europe are going through. Caught between a lack of resources and a prevailing economic vision, archaeology needs to rethink itself and its social role, both in terms of asset management, both with regard to measures aimed at developing the community's interest and attention to archaeological heritage, through communication and outreach.
In addition to the invited talks (November 29-morning November 30) in the afternoon of November 30 there will be a free session with 6 reports of 15 minutes focusing on the theme of the Conference.
.
Those who wish to participate should email their proposal containing the abstract of the speech, by October 20 2013 to the following e-mail address: giornate.gregoriane@parcovalledeitempli.it.
The Scientific Committee will select the reports by the end of October, taking account of their relevance to the themes of the conference and the scientific innovation of their content.
.
For further information: call for paper .pdf