scarica l'articolo in formato pdf: Gli interventi degli anni '90 del xx secolo. Il restauro dei templi di Paestum. Un caso di restauro interdisciplinare: i restauri finanziati con i fondi F.I.O.
.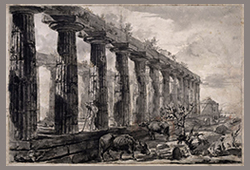 The restoration of the temples of Paestum was carried out following an interdisciplinary project designed by Alessandra Melucco Vaccaro and Giuliana
Tocco, according to which the restoration must also provide for the subsequent maintenance. The work, financed by the resources of the Investment
Facility for Employment (FIO) and directed by the Author during the period 1995-2000, was preceded by preliminary investigations by the Central
Institute of Restoration and allowed to direct the executive project on the three temples, identifying the causes of deterioration and, in large lines, the
conservative treatments to be taken. The result was the definition of a "protocol for the preservation of buildings and archaeological areas", in those years
rather innovative, which still has a great significance, since the restoration of the buildings was not the result of a single specialist, neither the arithmetic
sum of the contributions of different disciplines, it is instead the result of a choral ensemble
.