.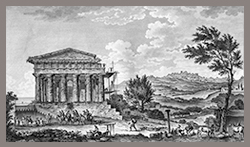 Summary
.
G. Parello, Presentazione, pp. I-VII
.
The Italian experience
R. Martines, Gli interventi degli anni '90 del xx secolo. Il restauro dei templi di Paestum. Un caso di restauro interdisciplinare: i restauri finanziati con i fondi F.I.O., pp. 3-20.
S. D'Agostino, Archeologia e rischio sismico, pp. 21-30.
.
The Athenian experience
V. Eleftheriou, The recent intervention programs on the monuments of the Athenian Acropolis, pp. 31-42.
K. Karanassos, Criteri di reintegrazione strutturale nel restauro dei monumenti dell'Acropoli di Atene. Problemi metodologici e scelte progettuali, pp. 43-54.
A. Vrouva, Calculating reinforcement for fragmented architectural members. A three dimensional approach, pp. 55-66.
.
A study case: the archaic fountain of the Santuario Rupestre in Akragas
A. Fino, La Fontana Arcaica di S. Biagio, pp. 67-92.
V. Santoro, La conservazione dei monumenti antichi in Sicilia. Il caso del de-restauro della fontana arcaica di Agrigento, pp. 93-117.