scarica l'articolo in formato pdf: Il pasto collettivo nei santuari dell'Egeo meridionale: struttura e forme di partecipazione
.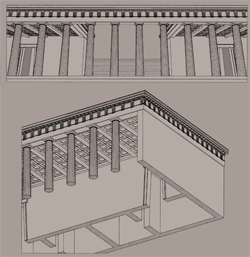 Questo contributo è stato presentato al Convegno Internazionale Cibo per gli uomini, cibo per gli dei. Archeologia del pasto rituale, Piazza Armerina, 5-8 maggio 2005. Se ne fornisce ora una versione aggiornata.
La stoà di Camiro, sul santuario dell'Acropoli dedicato ad Athana e Zeus Polieus, è uno dei più importanti monumenti urbani nell'Egeo meridionale. Diversi testi epigrafici riferiscono intorno alla sua funzione e al suo uso nel santuario e menzionano l'organizzazione di riunioni e di banchetti negli ambienti dell'edificio. Le stanze dietro il portico, infatti, sono organizzate in complessi con esedra centrale e sale laterali che possono essere interpretati come hestiatoria o sale da banchetto, molto simili a prototipi macedoni o egiziani. I rinvenimenti archeologici ed epigrafici rendono evidente che la stoà si pone come struttura multifunzionale adibita alle necessità politiche e religiose della polis. Inoltre è forse possibile collocare nella struttura lo hierothyteion, testimoniato dalle fonti epigrafiche, nel quale erano offerti banchetti pubblici dalla polis stessa.
.
This paper was presented at the International Conference Cibo per gli uomini, cibo per gli dei. Archeologia del pasto rituale, Piazza Armerina, 5-8 of May, 2005. This is now an updated version.
The stoà of Camirus, on the Acropolis sanctuary dedicated to Athana and Zeus Polieus, is one of the most important urban monuments in the southern Aegean sea. Several epigraphic texts speak about his function and use inside the sanctuary and mention the organization of meetings and banquets inside the rooms of the building. The rooms behind the portico, in fact, are organized in tree-rooms complexes that could be interpreted as hestiatoria or banquet houses, very similar at Macedonian or Egyptian prototypes. The archaeological and textual evidence prove that the stoà is a multifunctional structure that serves to religious and political necessity of the polis. Perhaps, it is also possible to locate in the structure the hierothyteion, testified by epigraphic fonts, in which public meals were offered by the polis itself.