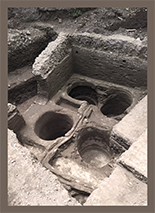 scarica l'articolo in formato .pdf: Coraria Septimiana e Campus Iudeorum: novità dai recenti scavi fuori Porta Portese
.
Recenti indagini archeologiche condotte in via della Mura Portuensi a Roma hanno portato al rinvenimento di resti relativi ad una monumentale conceria e ad una necropoli di età tardo medievale e moderna. Sulla base dei nuovi dati stratigrafici e del riesame della documentazione letteraria, epigrafica e cartografica antica (FUR) e moderna, il contributo propone di identificare nelle strutture della conceria i Coraria Septimiana, gli impianti per la lavorazione delle pelli fatti realizzare in Trastevere da Settimio Severo, e nell'area sepolcrale il Campus Iudeorum, la necropoli utilizzata dagli ebrei di Roma tra il XIV e il XVII secolo.
.
Recent archaeological excavations in via delle Mura Portuensi in Rome led to the discovery of remains related to a monumental tannery and a necropolis of Late Medieval and Early Modern age. Based on the new stratigraphic data and the review of the literary, epigraphic and cartographic evidences (FUR, modern plans), the paper aims to identify tannery's structures with Coraria Septimiana, plants for the processing of leather products, built in Trastevere by Septimius Severus, and burials in the Campus Iudeorum, the necropolis used by the Jews of Rome between XIVth and XVIIth centuries.