scarica l'articolo in formato .pdf: SEG L 1096 alla luce delle iscrizioni gladiatorie della Moesia Inferior e della Thracia
.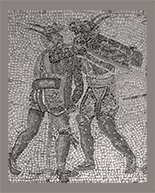 Il contributo si incentra sulle note epistulae indirizzate da Adriano alla città di Afrodisia (SEG L 1096) e, più specificamente, sulla lettera del 125 d.C. e il passo riguardante la sostituzione degli spettacoli gladiatori offerti dai flamines municipali con la costruzione di un acquedotto. Allo scopo di gettare luce sui meccanismi dell'organizzazione di munera da parte dei sacerdoti locali del culto imperiale, tale passo viene messo in relazione ad alcune epigrafi di munerarii poco note, provenienti dalla zona di Moesia Inferior e Thracia, le quali attestano l'esistenza, nell'area balcanica, della carica particolare di ἀρχιερεὺς δι' ὅπλων. L'analisi di tale carica, insieme ad un'interpretazione alternativa dell'epigrafe di Afrodisia induce a trattare la lettera di Adriano con maggiore cautela e a mantenere ancora aperta la domanda riguardo i diritti e i doveri dei flamines municipali.
.
The paper focuses on the well-known epistulae addressed by emperor Hadrian to the city of Aphrodisia (SEG L 1096) and, more specifically, on the letter from 125 A.D., especially the paragraph about the exchange of the gladiatorial games, offered by the municipal flamines, for the construction of an aqueduct. Attempting to shed more light on the mechanisms of the organization of munera by the local priests of the imperial cult, this paragraph is put into relation to some less-known inscriptions of munerarii from the zone of Lower Moesia and Thrace, which attest the existence in the Balcan region of the office of ἀρχιερεὺς δι' ὅπλων. The analysis of this office, together with an alternative interpretation of the Aphrodisias inscription, induces us to approach more cautiously Hadrian's epistula and keep the problem about the rights and the duties of the municipal flamines still open.