scarica l'articolo in formato pdf: Culti primari e secondari nel santuario urbano di Metaponto Continue Reading
.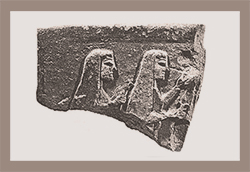 In presenza di molteplici templi principali nell'ambito dello stesso santuario è difficile determinare la divinità cui ciascuno di essi era dedicato. Sebbene l'approccio tradizionalmente adottato nella ricerca archeologica tenda ad attribuire ogni edificio templare a un referente divino differente, si possono osservare nel mondo greco diversi casi di edifici consacrati alla stessa divinità nell'ambito del medesimo santuario.
Nonostante la diffusione del culto di Hera presso le colonie achee sia largamente attestata, l'analisi della documentazione archeologica, epigrafica e filologica relativa al santuario urbano di Metaponto sembra mostrare come probabilmente entrambi i templi A e B fossero connessi ad Apollo, dal momento che nessun elemento certo prova l'esistenza del culto della dea. In tale ottica, l'area sacra in questione può essere considerata come il luogo ove Apollo – il cui culto è documentato sin dalle prime fasi di esistenza del sito da argoi lithoi presenti nell'intero temenos – era venerato come il dio principale e l'intestatario dei due templi maggiori, mentre altri culti, di importanza secondaria, erano accolti negli altri edifici del santuario.
.
In case of several major temples located inside the same sanctuary, difficulty arises with regard to the identification of the deity each of them was dedicated to. Although archaeological researches traditionally attempt to refer each temple to a different divinity, many examples of sacred buildings dedicated to the same god or goddess and situated in the same sanctuary can be found throughout the Greek world.
Notwithstanding the widespread presence of Hera cult in Achaean colonies, the analysis of the archaeological, epigraphic and philological documentation concerning Metaponto urban sanctuary seems to indicate that, probably, both temple A and B were consecrated to Apollo, as no conclusive element actually proves the presence of the goddess. In this perspective, the sacred area can be regarded as the place where Apollo – whose cult is testified since the beginning by argoi lithoi distributed in the whole temenos – was worshipped as the principal god and the owner of both the two major temples, while different secondary cults were hosted in other edifices of the sanctuary.