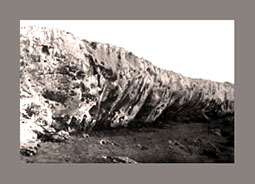 scarica l'articolo in formato .pdf: Les comportements techno-économiques au Paléolithique supérieur de la région de Témara (Rabat, Maroc): exemple de l'ensemble lithique de la grotte de Dar es Soltane II
.
Le matériel étudié est une série lithique ibéromaurusienne recueillie de la couche 3 dans la grotte de Dar es Soltane II (Rabat, Maroc). Les stratégies d'approvisionnement des matières premières, les méthodes et techniques appliquées dans le débitage ainsi que la proportion importante de lamelles à dos qui va de pair avec un taux de transformation élevé des supports lamellaires, attestent d'un fort investissement technique et confirment l'attribution de cette industrie au Paléolithique supérieur (Ibéromaurusien). La série lithique du Paléolithique supérieur de la grotte de Dar es Soltane II, inédite jusque-là, vient compléter une documentation relativement rare sur la façade atlantique du Nord du Maroc.
.
This review is a rare documentation that describes an iberomaurusian lithic industry obtained specifically from layer 3 at Dar es Soltane II site, on the Atlantic coast of northern Morocco. The raw material procurement, the knapping methods applied and the large proportion of backed bladelets reflects high technical expertise of Dar es Soltane humans. This attributes the present industry to the Upper Paleolithic called Iberomaurusian.