scarica l'articolo in formato .pdf: Il progetto di conservazione e di risanamento della restaurata "Casa Romana" di Kos
.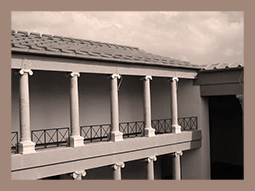 Il monumento conserva le rovine della domus rivelate dallo scavo di Luciano Laurenzi, su cui è stato fatto un tentativo di identificare e ricostituire le caratteristiche morfologiche della "Casa Romana" in un generale intervento ricostruttivo effettuato durante il periodo della dominazione italiana nel Dodecaneso. Scopo di un recente intervento sul monumento è stato quello di riabilitare la domus in termini di conservazione, operando il consolidamento dei suoi elementi strutturali. Inoltre, nell'ambito dello stesso progetto sono state valorizzate le caratteristiche architettoniche e decorative di "Casa Romana" nell'ambito del complesso monumentale della zona archeologica occidentale di Kos.
.
The monument preserves the ruins of the domus revealed in Laurenzi's excavation, upon which an attempt was made to identify and reconstitute the morphological features of the "Casa Romana" in a generalized reconstructive intervention during the period of Italian rule of Dodecanese. Aim of a recent study has been to rehabilitate the monument in terms of conservation and consolidation of its structural elements. In addition, in the same project the architectural and decorative characteristics of "Casa Romana" have been underscored and an attempt has been made to enhance the edifice in the monumental complex of the western archaeological zone of Kos.