scarica l'articolo in formato .pdf: Erodiano (7,2,1-8), le megístai eikones di Massimino e la guerra germanica del 235

 .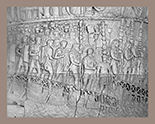 Nonostante i recenti ritrovamenti di Harzhorn, la campagna germanica di Massimino il Trace resta sostanzialmente impossibile da ricostruire. L'unica fonte letteraria che ce ne parla, il contemporaneo Erodiano, in realtà fonda il suo racconto sull'osservazione delle eikones fatte erigere nel Foro romano dall'imperatore per celebrare il suo comportamento. Ciò, tuttavia, se da un lato inibisce la possibilità di riconoscere valore documentario alle poche informazioni contenute nel resoconto erodianeo, d'altra parte ci testimonia la capacità di veicolare messaggi ideologicamente rassicuranti nei suoi fruitori (come per l'appunto Erodiano) da parte delle opere d'arte "ufficiali".
.
Despite the recent findings of Harzhorn, the German campaign of Maximinus Thrax remains basically impossible to reconstruct. The only literary source that talks about it, the contemporary Herodian, in fact based his history on the observation of the eikones erected in the Roman Forum to celebrate the Emperor's behavior. Anyway, if on one hand it inhibits the possibility to recognize documentary value of the limited informations contained in the herodianean report, on the other hand it demonstrates the ability by works of "official" art to convey in its audience (like precisely Herodianus) messages ideologically reassuring.