scarica l'articolo in formato pdf: Edifici pubblici e pasto rituale in Attica
.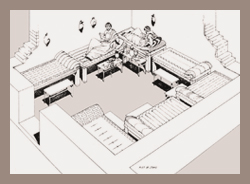 Questo contributo è stato presentato al Convegno Internazionale Cibo per gli uomini, cibo per gli dei. Archeologia del pasto rituale, Piazza Armerina, 5-8 maggio 2005. Se ne fornisce ora una versione aggiornata. Lo studio approfondisce il tema del pasto rituale in Attica, soprattutto analizzando la situazione dei diversi edifici i quali presentano una varietà di casi mai analizzata con la dovuta attenzione. Proprio le diverse caratteristiche di ogni specifica lasciano ipotizzare che sia possibile evincere dalla forma e dall'arredo degli ambienti e dal numero complessivo di posti disponibili l'esistenza di diversi modi d'uso che riflettono diverse strutture sociali e religiose. Atene, Eleusi e Brauron sono presi come esempio di modelli dell'organizzazione di una funzione che gestisce autonomamente i propri spazi sulla base di motivazioni socio-istituzionali.
.
This paper was presented at the International Conference Cibo per gli uomini, cibo per gli dei. Archeologia del pasto rituale, Piazza Armerina, 5-8 of May, 2005. This is now an updated version. The article concerns the issues related to ritual meal in Attica, especially by analyzing the function of several buildings showing an array of cases that has not been properly assessed yet. Each case's specific features lead to the hypothesis that banquet building rooms' plan and furniture, as well as the overall number of available seats, point to the existence of different usage methods reflecting coherent social and religious structures. Athens, Eleusis and Brauron are taken into account as examples of a functional system that autonomously organizes its own spaces on the basis of social and institutional needs.