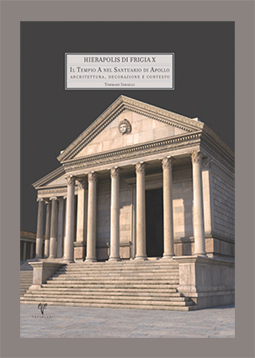 Il prossimo 7 maggio 2018, a partire dalle ore 15.00, a Roma presso la Biblioteca centrale del Consiglio nazionale delle ricerche (piazzale Aldo Moro 7), avrà luogo la presentazione dei volumi Ancient quarries and building sites in Asia Minor. Research on Hierapolis in Phrygia and other cities in south-western Anatolia: archaeology, archaeometry, conservation, a cura di Tommaso Ismaelli e Giuseppe Scardozzi, ricercatori dell'Ibam della sede di Lecce, edito da Edipuglia nel 2016 e Il Tempio A nel Santuario di Apollo. Architettura, decorazione e contesto, Hierapolis di Frigia X, di Tommaso Ismaelli, edito da Ege Yayinlari nel 2017.
Alla presentazione interverranno Massimo Inguscio, presidente del Cnr, Gilberto Corbellini, direttore del Dipartimento di sciente umane e sociali, patrimonio colturale del Cnr, Daniele Malfitana, direttore dell'Ibam Cnr, Paolo Messina, direttore dell'Igag Cnr, Maria Perla Colombini, ex direttore dell'Icvbc Cnr e Gianluca Tagliamonte, direttore del Dipartimento di beni culturali dell'Università del Salento.
L'introduzione è stata affidata a Francesco D'Andria (Università del Salento). A presentare i volumi saranno specialisti di architettura antica, archeologia delle province romane ed archeometria: Roberto Bugini (Icvbc), Nathalie de Chaisemartin (Université Paris-Sorbonne), Monica Livadiotti (Politecnico di Bari), Marcello Spanu (Università degli studi Roma Tre).
.
Organizzato da:
Cnr – Istituto per i beni archeologici e monumentali
Cnr – Istituto per la conservazione e valorizzazione dei beni culturali e Cnr – Istituto di geologia ambientale e geoingegneria in collaborazione con il Dipartimento di beni culturali dell'Università del Salento
.
Scarica la locandina