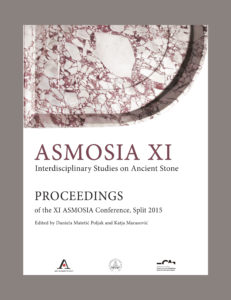 Proceedings of the Eleventh International Conference of ASMOSIA, Split, 18-22 May 2015, Split 2018.
ISBN 978-953-6617-49-4, 987-953-6116-75-1
e-ISBN 978-953-6617-51-7, 978-953-6116-79-9
La corposa pubblicazione, che conta più di 1000 pagine, raccoglie gli atti dell'ultima conferenza – l'undicesima, tenutasi a Spalato nel 2015 – dell'Associazione ASMOSIA, il cui fine, com'è noto, è lo studio di marmi e pietre impiegate in Antico, fornendone costanti aggiornamenti. Si articola in otto sezioni monografiche, che raccolgono contributi riconducibili a temi unitari o comunque omogenei: si spazia dall'analisi di questioni archeologiche connesse con l'uso del marmo all'identificazione dei siti di estrazione e della provenienza di marmi e pietre, dall'esposizione di nuove tecniche e metodologie alla trattazione di aspetti geologici e di gestione/amministrazione delle cave, per raggiungere la scala di dettaglio di questioni specifiche come il restauro o l'uso di pitture e pigmentazioni. Di notevole interesse la sezione conclusiva, geograficamente dedicata all'Adriatico.
Scarica l'anteprima