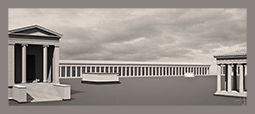 In questo volume si pubblicano i risultati di un workshop tenutosi presso il Dipartimento di Archeologia e Storia Antica dell'Università di Uppsala, il 15-16 febbraio 2017. Il tema proposto era Lo spazio urbano e rurale nel mondo della polis greca, e i partecipanti provenivano dal Dipartimento di Scienze dell'Ingegneria e dell'Architettura del Politecnico di Bari e dal Dipartimento di Archeologia e Storia Antica dell'Università di Uppsala. Tre dei quattro articoli esaminano gli spazi civici e sacri nel Dodecaneso, mentre il quarto tratta la questione di come gli antichi Greci percepivano e mappavano lo spazio per orientarsi al suo interno.
     Poiché l'importanza dell'Egeo sud-orientale e delle regioni costiere dell'Asia Minore sud-occidentale nei periodi tardoclassico ed ellenistico sta diventando sempre più evidente, il prosieguo della ricerca in questo campo ci consente di comprendere meglio questi poli e il ruolo che hanno rivestito nel più vasto mondo greco. Questa pubblicazione relativamente breve contribuisce a questa ricerca e sottolinea anche il ruolo centrale di segnacolo che i santuari più visibili hanno svolto per i viaggiatori in territori sconosciuti.
.
Sommario
.
K. Höghammar, M. Livadiotti, Introduction, pp. 5-6;
G. Rocco, Sacred architecture in Hellenistic Rhodes, pp. 7-38;
M. Livadiotti, The infrastructure of a Hellenistic town and its persistence in Imperial period: the case of Kos, pp. 39-76;
K. Höghammar, The sanctuary of the Twelve Gods in Kos and the stelai with proxeny decrees, pp. 77-100
A. Frejman, Some thoughts on ancient maps, travel, and the location of Greek rural sanctuaries, pp. 101-110.