.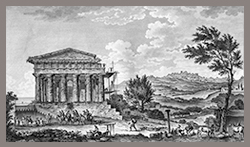 Si presentano in questa sede gli Atti delle V Giornate Gregoriane, svoltesi presso il Parco Archeologico della Valle dei Templi di Agrigento nelle giornate del 23 e 24 novembre 2012. Le giornate, il cui titolo è stato "Il restauro dei monumenti antichi. Problemi strutturali: esperienze e prospettive", hanno visto la partecipazione di esperti di livello internazionale che hanno discusso di metodologie e tecniche di restauro, presentando importanti casi studio relativi a contesti monumentali che presentano strette affinità con l'area archeologica dell'antica Akragas. La seconda delle due giornate è stata interamente dedicata al caso di studio costituito dal cosiddetto Santuario Rupestre di Agrigento, dove di recente sono stati effettuati lavori di messa in sicurezza e per il quale è previsto un intervento di restauro e ricostruzione del monumento.
.
Sommario

.
G. Parello, Presentazione, pp. I-VII
.
L'esperienza italiana
R. Martines, Gli interventi degli anni '90 del xx secolo. Il restauro dei templi di Paestum. Un caso di restauro interdisciplinare: i restauri finanziati con i fondi F.I.O., pp. 3-20.
S. D'Agostino, Archeologia e rischio sismico, pp. 21-30.
.
L'esperienza ateniese
V. Eleftheriou, The recent intervention programs on the monuments of the Athenian Acropolis, pp. 31-42.
K. Karanassos, Criteri di reintegrazione strutturale nel restauro dei monumenti dell'Acropoli di Atene. Problemi metodologici e scelte progettuali, pp. 43-54.
A. Vrouva, Calculating reinforcement for fragmented architectural members. A three dimensional approach, pp. 55-66.
.
Un caso studio: la fontana arcaica del Santuario Rupestre ad Agrigento
A. Fino, La Fontana Arcaica di S. Biagio, pp. 67-92.
V. Santoro, La conservazione dei monumenti antichi in Sicilia. Il caso del de-restauro della fontana arcaica di Agrigento, pp. 93-117.